Zonday Tricolore

Descriptions

Bought for:
$2,100,000
Sold for:
$1,260,000
Painted for:
$315,000

Other attributes

Resembles the Pagani Zonda Tricolore
The Zonday Tricolore was a vehicle earned by completing the achievement "You've Been WAITING" which is achieved by obtaining 20 Mystery Boxes. It was first obtainable on May 27, 2013.
However, the Mystery Box feature has since changed and now the car no longer requires 20 Mystery Boxes, but rather is achieved through a new achievement, still titled "You've Been WAITING" but now requires you to achieve 200 Daily Mystery Boxes.
Painting
The default paint job is blue.
Scrapped Zonda Cinque Roadster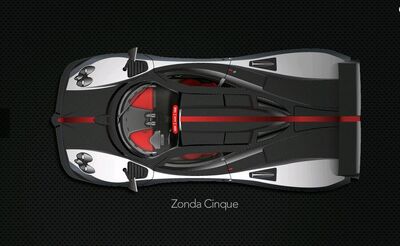 This is one of the few known scrapped cars that have been released later such as the '69 Shellback RT-500 which had a earlier scrapped variant that never made it into the dealerships of NitroType. It is based off the Pagani Zonda Cinque Roadster .
Trivia
The older Zonda is based off the Pagani Zonda Cinque Roadster
The newer Zonda is based off the Zonda Tricolore.
It is the one of the cars that takes time to get such as the Long Hauling series of achievements.
In reality it is the world's 2nd most expensive car.
It is the first car in NitroType to feature a person in it.
There used to be a Zonday that was supposed to come out, but Corndog didn't like its design and decided to make a new Zonday later on. It appears to have a more two-dimensional look to it and wasn't released until a year later.
Unfinished/Unreleased Vehicles
Rental Car
|
'67 Vette
|
MSG 01
Scrapped Brown Convertible (No ID) | Scrapped Pink Truck (No ID)
Ad blocker interference detected!
Wikia is a free-to-use site that makes money from advertising. We have a modified experience for viewers using ad blockers

Wikia is not accessible if you've made further modifications. Remove the custom ad blocker rule(s) and the page will load as expected.