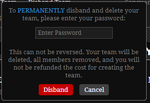 This is a disbanded team.
This was once an available team, but now has been removed.
This team was created by PhilliesMagic in June 2014. It was one of the most popular teams on Nitro Type, having 200 members before it was disbanded. PhilliesMagic disbanded the team on August 14, 2014 to join NTS.